0202
Closed frame (design 020)
Weight optimised, closed plastic frame with high torsional rigidity.
Outside/inside: not openable.
more details
Fast cable laying – 0202 slotted version
The slotted variant of the MONO 0202 allows fast and easy pressing in of cables without opening the cable carrier. That saves time and therefore money. It is particularly suitable for cables with pre-assembled connectors. Please contact us!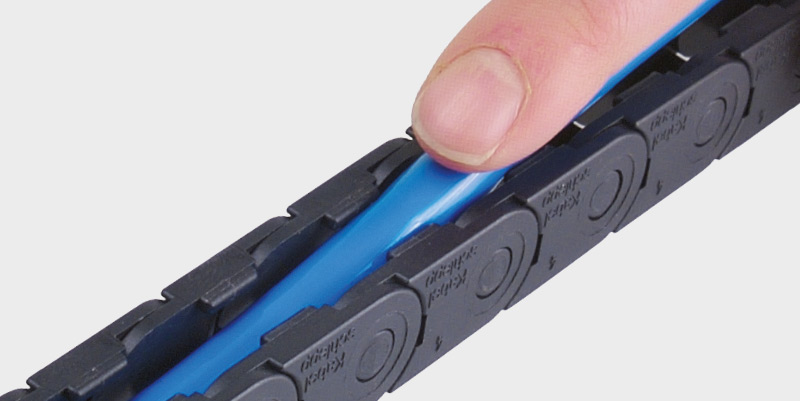 H


[mm]

Hz


[mm]

LB


[mm]

UB


[mm]

18

51
61
97
45.5

28

71
81
128
55.5

38

91
101
160
65.5

50

115
125
198
77.5
Load diagram for unsupported length depending on the additional load.
Sagging of the cable carrier is technically permitted for extended travel lengths, depending on the specific application.
Intrinsic cable carrier weight qk = 0.18 kg/m with Bi 10 mm. For other inner widths, the maximum additional load changes.
Speed
up to 10 m/s
Acceleration
up to 50 m/s2
Travel length
up to 1.95 m
Additional load
up to 1.25 kg/m
Speed
up to 3 m/s
Acceleration
up to 30 m/s2
Travel length
up to 70 m
Additional load
up to 1 kg/m
Cables for cable carriers
Reliable, robust with high availability. Your benefit from many years of experience combined with ongoing optimization, proven in tests and praxis. TRAXLINE® cables stand for competent system-supply with worldwide on-site service.
to TRAXLINE®
Ready-to-connect cable carrier systems
From pre-assembled cables to complex, ready-to-connect systems, from lot size 1 to series – worldwide thousands of KABELSCHLEPP systems are reliably in use. The benefits of TOTALTRAX® systems are obvious: just one person of contact, one order number, delivery just-in-time to your production facility, shortest downtimes thanks to plug&play installation.
to TOTALTRAX®