LS/LSX series
Cost-effective steel chains with light design
All stays available in 1 mm width sections
4-fold bolted aluminum stays for extreme loads
Rolling stays
Aluminum hole stays
Mounting frame stays
Stops integrated into link plate – no additional bolts required
Different separation options for the cables
Plastic or steel dividers
Weight-optimized side bands made of hardened steel or stainless steel
Optional center bolt for applications with high loads
Good ratio of inner to outer width – no end divider required
End connectors for different connection variants
Weight-optimized one-part link plate design
Better value than comparable steel cable carriers
Significantly higher unsupported lengths compared to plastic cable carriers of a similar size
Integrated radius and pre-tension stops – in a good value design
Bolted stay systems, solid end connectors
Cover with steel band available on request
Also possible as a double band solution
Good corrosion resistance

The design
The weight-optimized link plate design makes the cable carriers very light yet highly sturdy. For the LS series, the unsupported length is significantly higher compared to plastic cable carriers of a similar size.
Weight-optimized link plates consist of only one plate – the stop system is integrated
Lightweight side bands without additional bolts – hardened steel or stainless steel
Optional: Center bolts and circlip for applications with high loads
Optional: C-rail for strain relief elements attached in the connection
Sturdy and durable, even under extreme conditions
Double-band steel cable carrier LS1050
Up to 40% longer unsupported lengths compared to LS1050 with standard side band
Very high additional loads: up to 40 kg/m possible
Long service life even with high dynamic loads
High travel speeds
Longer service life through hardened side bands
The hardened surface significantly increases the service life of the LS1050. Tests were carried out on cable carriers with identical designs.
The LS1050 is therefore ideal for applications with many travel cycles, for example in 3-shift operation.
Significantly higher unsupported lengths compared to plastic cable carriers of a similar size
Load diagram for unsupported length depending on the additional load
Weight-optimized through adapted link plate design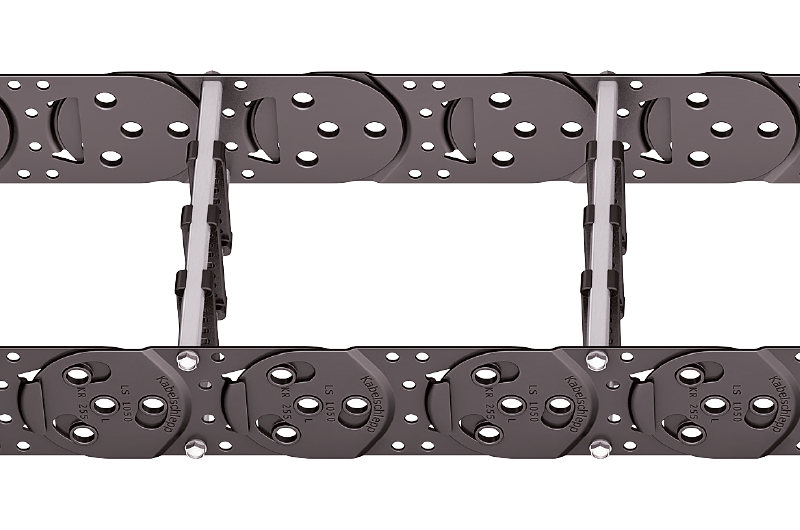 Chain widths [Bk]:
100 – 600 mm
Bending [KR]:
105 – 430 mm
more details
Cables for cable carriers – TRAXLINE®
Reliable, robust with high availability. Your benefit from many years of experience combined with ongoing optimization, proven in tests and praxis. TRAXLINE® cables stand for competent system-supply with worldwide on-site service.
to TRAXLINE®
Ready-to-connect cable carrier systems – TOTALTRAX®
From pre-assembled cables to complex, ready-to-connect systems, from lot size 1 to series – worldwide thousands of KABELSCHLEPP systems are reliably in use. The benefits of TOTALTRAX® systems are obvious: just one person of contact, one order number, delivery just-in-time to your production facility, shortest downtimes thanks to plug&play installation.
to TOTALTRAX®