XLT series
Tubes with variable cable carrier widths
Aluminum covers available in 1 mm width sections
4 screw-fixing points for extreme loads
Can be opened on the inside and the outside for installation of cables and hoses
Replaceable glide shoes
Sturdy end connectors made of steel
Flange connection
Sizes/dimensions
Low intrinsic weight
Optimum force transmission via the large-surface stroke system (2 disc principle)
Plastic side bands in combination with aluminum stays
Versions with aluminum stays available in 1 mm width sections up to 1000 mm inner width
Can be opened on both sides
Large selection of separating options for cables and hoses
Optionally with strain relief
Bolted covers systems for maximum stability even for large cable carrier widths
Replaceable glide shoes for long service life for gliding applications
Sturdy end connectors made of steel (different connection variants)
Many separation options for the cables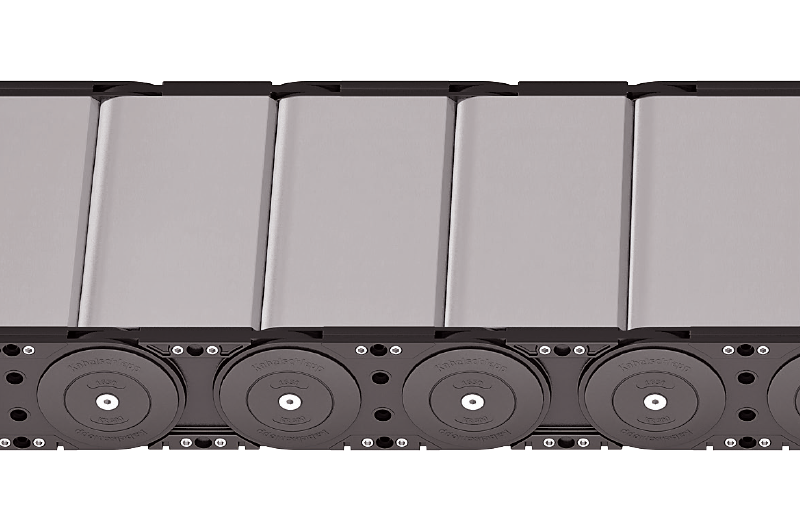 Inner height [hi]:
105 mm
Inner widths [Bi]:
200 – 1000 mm
Bending [KR]:
300 – 550 mm
more details
Cables for cable carriers – TRAXLINE®
Reliable, robust with high availability. Your benefit from many years of experience combined with ongoing optimization, proven in tests and praxis. TRAXLINE® cables stand for competent system-supply with worldwide on-site service.
to TRAXLINE®
Ready-to-connect cable carrier systems – TOTALTRAX®
From pre-assembled cables to complex, ready-to-connect systems, from lot size 1 to series – worldwide thousands of KABELSCHLEPP systems are reliably in use. The benefits of TOTALTRAX® systems are obvious: just one person of contact, one order number, delivery just-in-time to your production facility, shortest downtimes thanks to plug&play installation.
to TOTALTRAX®